These days, regular buyers of the product, Pure Balance Dog Food, have something in common. They are all probably wondering, "Where is Pure Balance Dog Food Made?"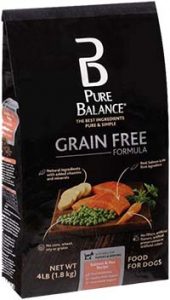 Sometimes as pet owners, we have to make sure what we give our pets is safe, legit, authentic, and healthy. But it just worries us sometimes whenever a certain product doesn't have all the information we need to know about on it. Such as the ingredients, nutritional facts, age requirement, and even the manufacturer. Now, sometimes the place where it is made matters when it comes to products. But the Pure Balance Dog Food doesn't exactly the state where it was made. This is where it all started. Now we can ask ourselves… where is it made?
What it is made of
I mostly find people commenting a lot about how its ingredients are not listed on the product plastic. However, I have managed to dig things through and found the exact ingredients for the Dog Food. But then again, it all depends on the flavor you have chosen. The Pure Balance Dog Food has about 6 flavors available. Ingredients are different for each one of them.
Although each flavor has some ingredients in common. These ingredients include:
Dried Plain Beet Pulp
Dried Egg Product
Natural Flavor
Oatmeal
Sunflower Oil
Dried Peas
Dried Carrots
Whole Flaxseed
Dried Cranberry
Potassium Chloride
Salt
Zinc Proteinate
Vitamin E Supplement
Iron Proteinate
L-Ascorbyl-2-Polyphosphate (source of Vitamin C)
Choline Chloride Manganese Proteinate
L-Carnitine
Copper Proteinate
Niacin
D-Calcium Pantothenate
Biotin
Sodium Selenite
Vitamin D3 Supplement
Riboflavin Supplement
Thiamine Mononitrate
Vitamin A Supplement
Vitamin B12 Supplement
Calcium Iodate
Pyridoxine Hydrochloride (source of Vitamin B6)
Folic Acid
Why Pure balance is the best choice for your pet?
The Different Flavors
As far as I know, the Pure Balance Dog Food has about 6 flavors in total. They have a color coding to see which one is which.

They have the color

pink

for the flavor, Chicken and Garden Vegetables.
The color

red

for the flavor, Salmon, and Peas.
The

orange

color for the flavor Chicken and Brown Rice. Though there are two in which are color coded orange. The other flavor with the orange color code is Chicken and Peas. So I think orange is the main color for the flavor, Chicken. However, the two has a little difference. One with Peas and the other with brown rice.
They have the color

Blue

for the unique flavor recipe, Bison, Peas, and Venison.
Lastly, they have chosen the color

Green

to color code the flavor recipe, Lamb, and Brown Rice.
All the six flavors of Pure Balance Dog Food has been covered up. The manufacturer sure did make lots of flavors in order for your dog to try so many recipes as well. Very thoughtful. If you are thinking of purchasing some of them or at least one of them. They can be found on Amazon as well. Links will be provided just in case you decided to try this dog food out.
Where is Pure Balance Dog Food made?
Now we are down to the question everyone else is looking for. Where is Pure Balance Dog Food Made?
Well, you don't have to worry. This dog food is manufactured exclusively in the country, United States, by the people of Ainsworth Pet Nutrition. Ainsworth Pet Nutrition is an operated company that is a fifth generation and primarily family-owned. It is said that the company can be located in Meadville. They are mostly known for making Dog Foods, especially the Pure Balance Dog Food. It isn't so much of a mystery now, isn't it?
The Ainsworth Pet Nutrition is trust-worthy when it comes to making dog food for the betterment of our pet's health and their nutrition. Go ahead and visit their website for more information about them. Getting to know the company well is another way of knowing whether the products you buy from them are high quality-based or not.
Conclusion
Were all your questions about the Pure Balance Dog Food answered? If they were, I'm glad to be able to answer all of them. Sometimes it is better to know more about the dog food we give our dogs. It just ensures us that this product is safe enough for them. Please give this article a like and a share of people who would need to know about such information related to the Pure Balance Dog Food. Thank you so much for taking the time to read this article!