Dog strollers are the strollers just for you baby, but this time, it would be for a very furry baby. Most of the time, these strollers are for small dogs that find themselves easily tired, or you just want to take them someplace where they aren't able to walk around in. In times like that, you would definitely need to go and get yourself the best dog stroller!
​Dog Strollers
Perhaps most of you haven't even heard that there was even such a thing, but not to worry! Dog strollers are simple and easy to understand! Dog strollers are for small dogs to rest in, designed for them to stay contained, making the chances of them jumping out and possibly running into danger smaller than the average time. Being secure, safe, and comfortable, dog strollers can do more than just make your dog look like an adorable baby.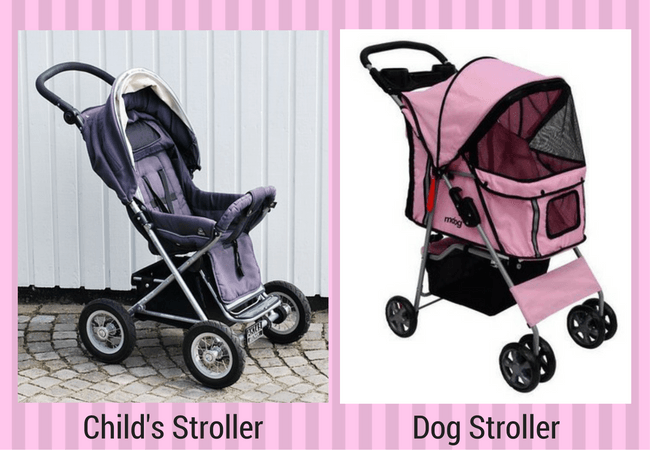 5 reasons why you need a dog stroller
This might be the part where you are thinking about the question "Why I need a dog stroller?" and at first the reason may be hard to find, so let me assist you. Surprisingly enough, a dog stroller actually has many uses that you can benefit from very easily.
1. Less Arm Fatigue
A dog stroller can replace the cramped up space of a pet carrier, and with it, you wouldn't have to strain yourself with the weight. This means your pet would be able to go longer distances with you replacing the uses you can get with a pet carrier, and at the same time spare yourself the arm fatigue that would come with it.
2. Safe from the crowd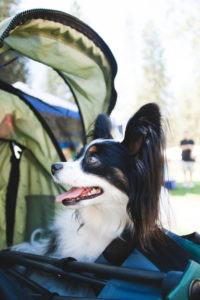 When going through big places with big crowds it wouldn't be recommended that you would walk around your dog with a leash, after all, they would get pushed, stepped on, and kicked. With a dog stroller, you would be able to get to where you and your dog need to go without all of the added injuries.
3. Small Puppy Stamina
If you have a big dog as well as a small one, taking them out for walks together at the same time can be conflicting, after all, your bigger puppy would be able to go on a little longer while your smaller one would be barking at you to go home. Bring your small one with a dog stroller as to not interrupt your other dog's fun and exercise.
4. Safe puppy is a Happy Puppy
There will always be bigger puppies than yours, and not all the time they are adorable fluff balls equal to yours, there are those occasions when your puppy will be in danger of bigger dogs. Inside of a dog stroller, your little dog would be able to stay away from harm as you go through the dangerous paths of the big dogs.
5. Good for Older Humans and Dogs
With the ages coming and going, older human beings would be able to go on about their days with their pet without having to overexert themselves, and if your dog is a sickly, or basically also an aged dog, a dog stroller would be the best when transporting him to places like the vet or even to a hotel.
What are the different things you need to know before buying a dog stroller?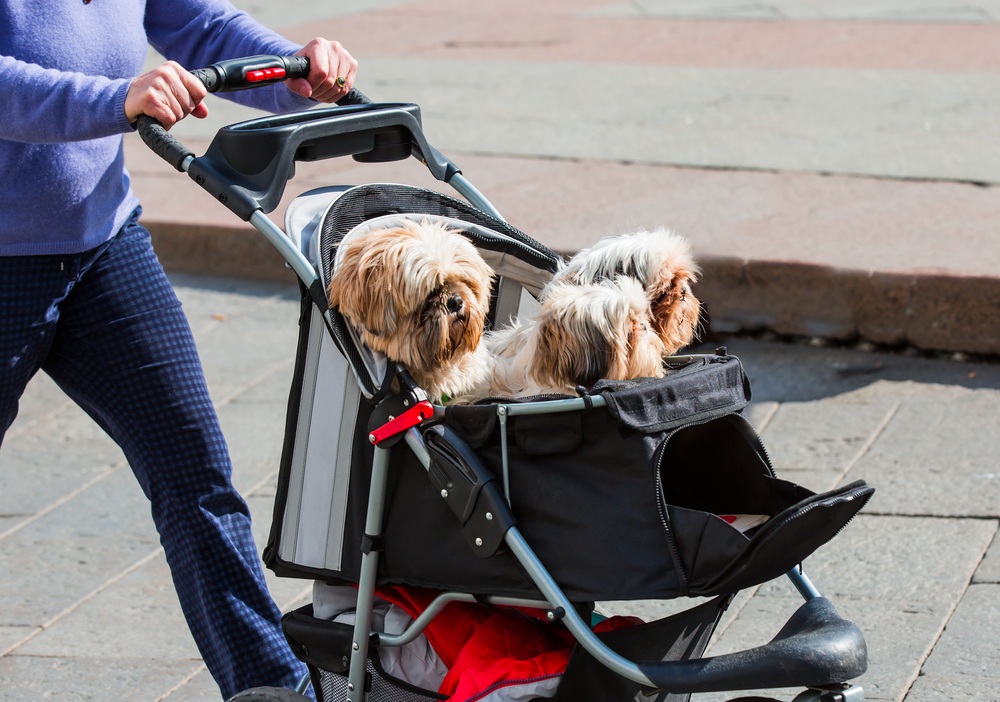 Before actually going on and buying a stroller there are a few things you need to know. These are important because with these in mind you would be able to save money, pick the best, and even go at it with style! The best of the best strollers are both safe and stylish for your dog, so with these attributes, you would be able to choose the right stroller for your dog.
• Easy folding
With easy folding you would be able to have it out and in no time, saving you more time and effort.
• Smooth riding
Is it hard to handle, or changes direction as smooth as a hot knife on butter? The easier it is to control the better it would be for you and your dog. With smoother movements, you would exert less effort.
• Safe and Durable
It wouldn't do if your dog stroller broke down just like that, it would get rid of its purpose of keeping your little puppy safe. Get a dog stroller that's sturdy and durable.
These are the basic things that you need for your dog stroller! With these in mind, you would be able to choose just the right one for you and your doggy. If you choose right, you would be able to live out your days faster and easier, with your dog living in comfort.
Now, here is the main event! The Best Dog Strollers!
| | | | | |
| --- | --- | --- | --- | --- |
| | | | | |
| | Gen7Pets Regal Plus Pet Stroller | | | All Terrain Pet Dog Cat Stroller |
| | | | | |
| | | | | |
#1 — Promenade Pet Stroller

Features:
Unlike most of the other pet strollers, this one would be able to give more space to your puppy when opened. This stroller provides comfort for both you and your dog, with the walking space larger for you, and more breathable air for your dog.
Its wheels come with shock absorbers
Provides plenty of space for your small dog to change positions
Wheel locks and unlocks very easily
Assembly will take only five minutes
It is comfortable only for a small type of dog
#2 –– Gen 7Pets Regal Plus Pet Stroller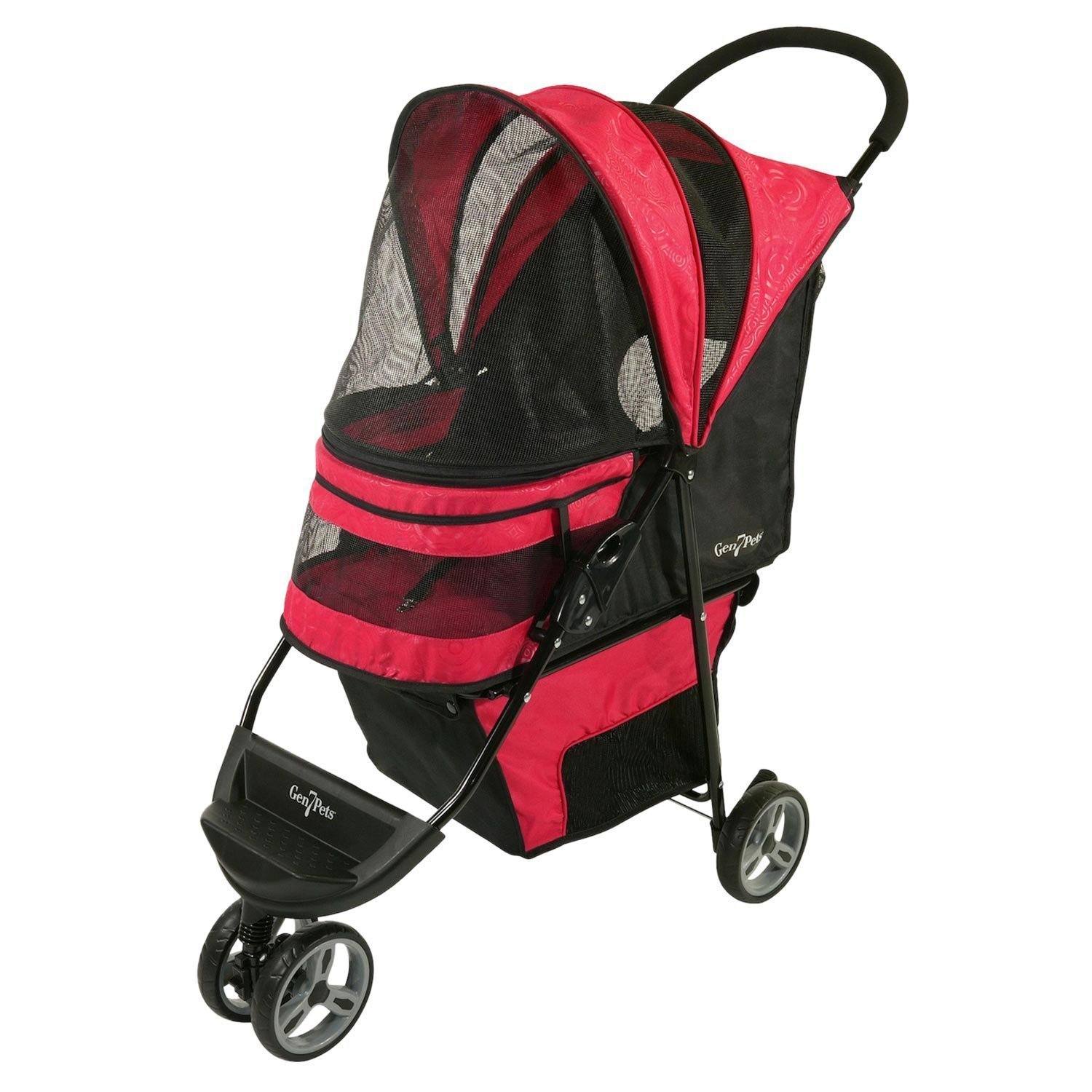 Features:
This contains many extra add-ons that would bring you delights, such as a front wheel that con move on both rough and smooth surfaces, extra storage pouches, and more.
Plenty of extra accessories
Tons of smart features
Designed for easy use
Very easy to put together
#3 — VIVO Pet Stroller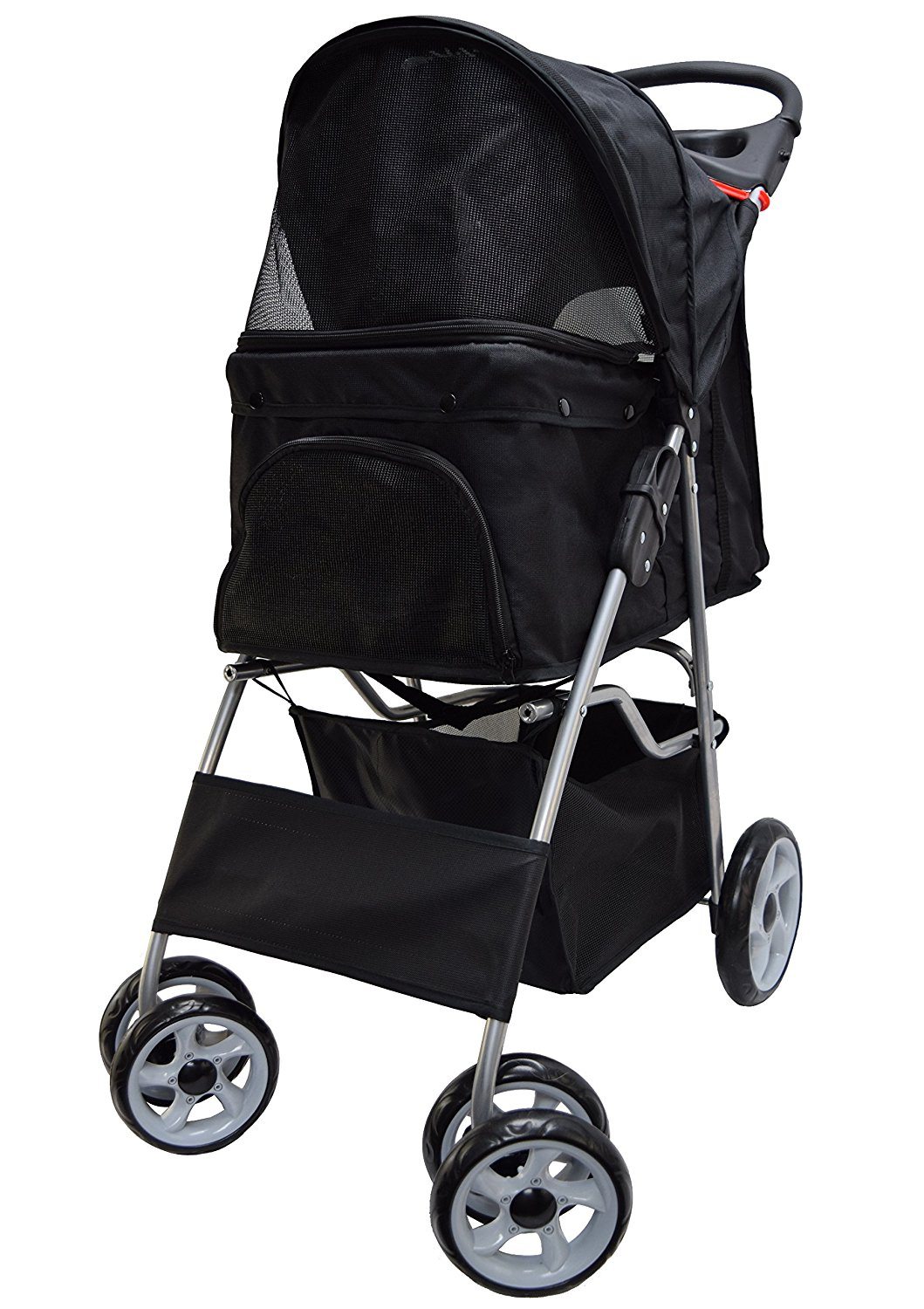 Features:
Its specialty is its large compartment that enables you to have easier access to your dog through special zippers and an adorable small window that comes with a canopy.
Soft padding for extra comfort
Multiple windows to provide a better view for your pet
Provides lots of fresh air for your pet
Big storage space underneath
#4 — BestPet Pet Stroller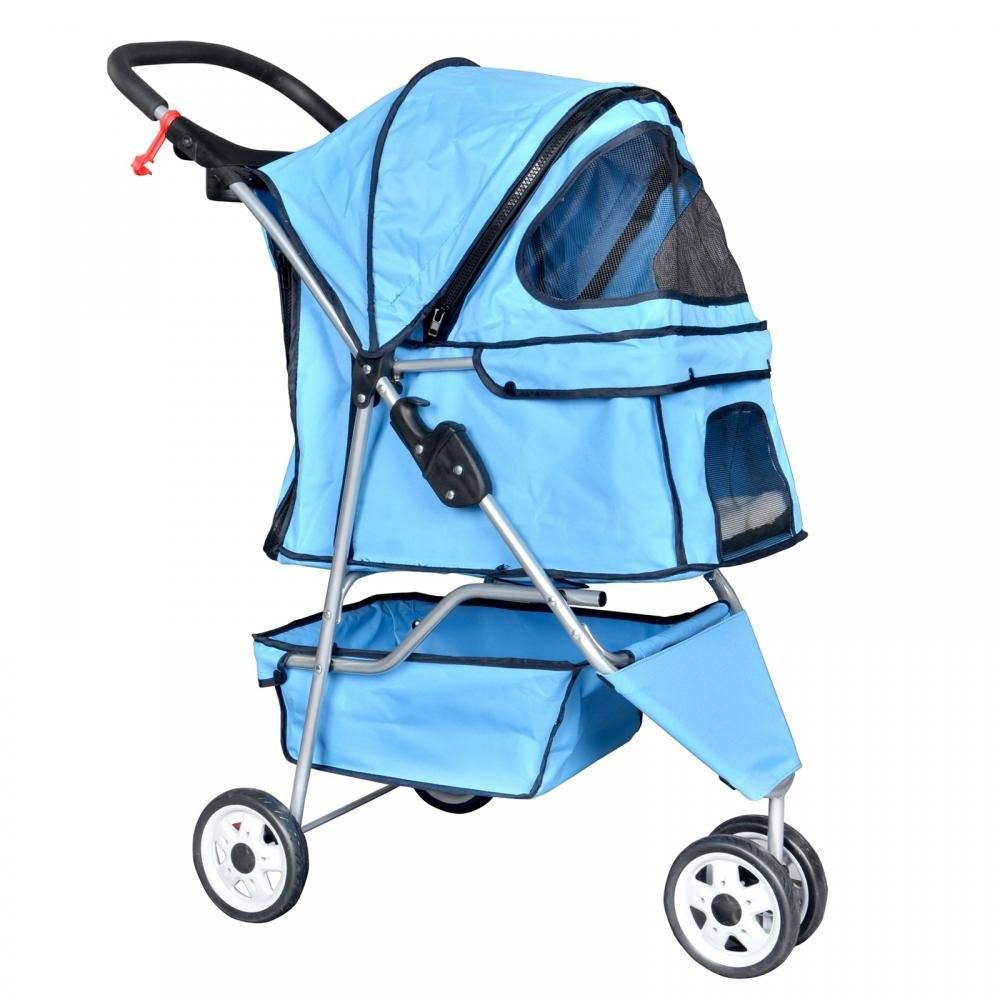 Features:
A very stylish dog stroller that comes in many different colors, if that's not enough, it has extra space and paddings for your dog to lie and roll around in!
All of its materials have been specially chosen for each different equipment
It folds very easily
Has a rear ventilation mesh window
Is very tough and waterproof
#5 — All Terrain Pet Dog Cat Stroller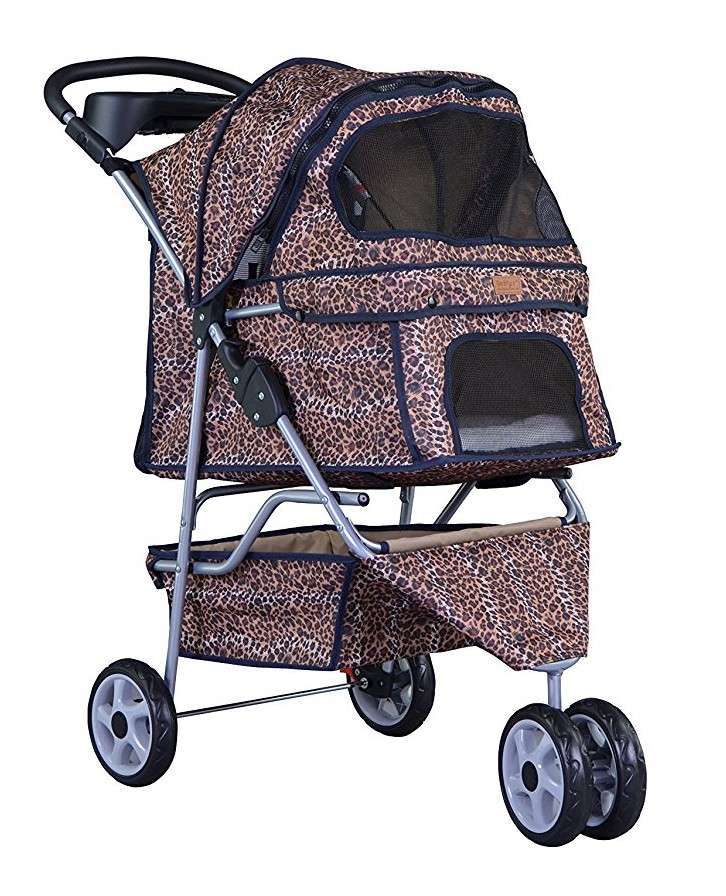 Features:
This dog stroller keeps your dog contained inside, and to make their experience more comfortable, it has top, front, and rear ventilation windows to keep out the bugs.
Folds as fast as five seconds
Ventilation mesh windows
Can enter in both the front and the back
Easy to assemble
Conclusion
Believe it or not, pet strollers are actually a pretty useful thing to have for people who have a small pet dog. Not only will it keep the little fur-babies safe, it will make them look absolutely adorable in the pet strollers! If you're interested, go ahead and get your pet a dog stroller right away!