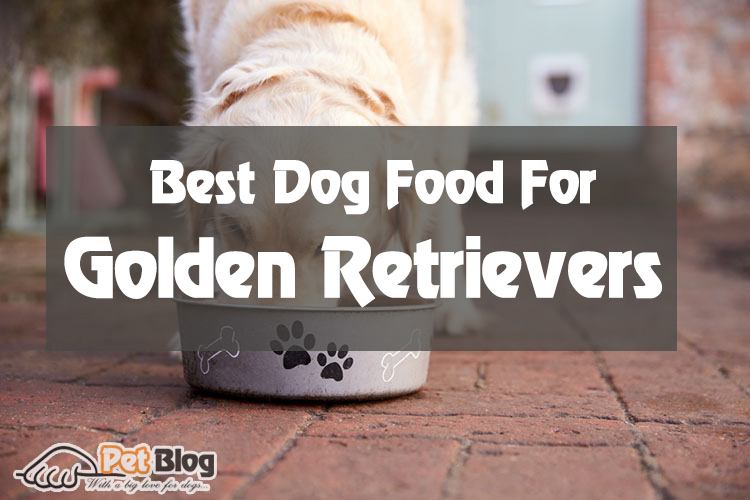 Golden Retrievers are known to be the kindest and best to train breed among all dogs. It is just right to search for the dog food that can support these qualities and make them be the adorable and helpful dogs like they are.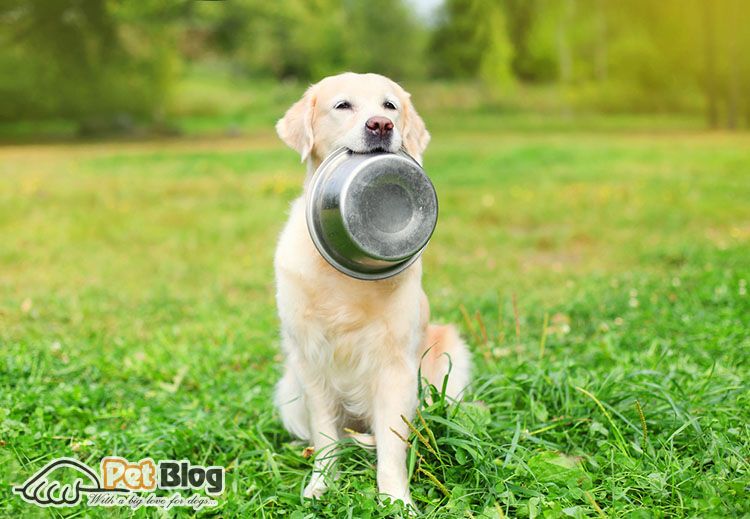 If you own one and is trying to look for the best dog food for your little buddy, you are in good timing since we have prepared The Best Dog Food for Golden Retrievers along with a buying guide to keep consumers like you well informed on what is the latest in the dog food market. Stay put and find out more!
Golden Retriever Diet & Nutrition Needs***
1800CalActive/ working dogs1313CalTypical Adults1074CalOlder dogs
***Please note: these estimates are based on an average weight for this breed. Every dog is different. Please talk to your vet before making changes to your dog's diet.
How Will I know If I Am Feeding Them the Best Food?
Golden Retrievers are very smart and highly trainable dogs. I have one that always melts my heart in our neighborhood. I guess this dog was trained since he was a puppy because now, he assists this old lady every morning in the market. He holds the basket full of veggies in his mouth while she (almost blind) crosses the street. I could run and help her out somehow, but I can see that the dog is doing a pretty good job in guiding her around. I stand in awe!
Tips for you to train your Golden Retriever puppy:
For working dogs like him, who is a large breed, young and active, he simply needs the right kind of nutrition to keep going. You would know that you are giving the Best Dog Food for Golden Retrievers if it can cover the dog needs below.
Coat and Skin Maintenance
As a large breed, Golden Retrievers weigh an average of 65 pounds and a height of an average 23 inches in adult life. Males who are prominently huge than their female counterpart have fantastic coats that are water-repellent and a superb undercoat.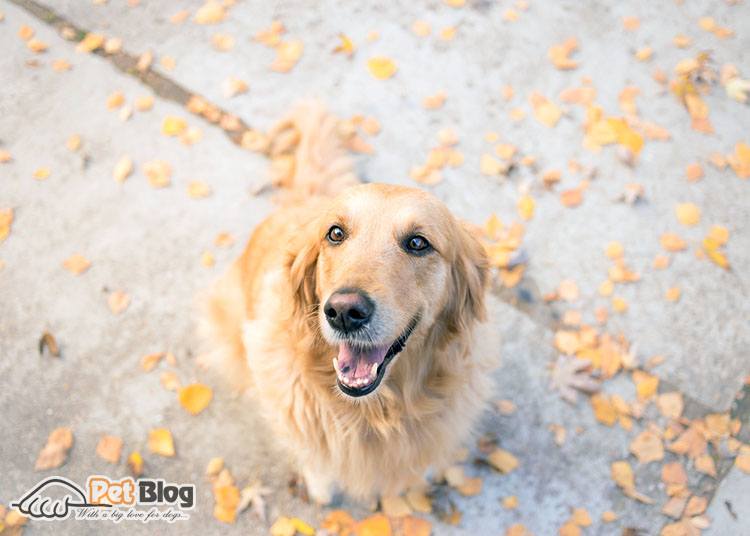 Sporty in nature, this kind of breed is a winner on competitions and a priority for family pets. You can easily spot a Golden Retriever from among the different kind of breeds because of their thick and lustrous fur.
You can also notice feathering in their body mostly in the legs, chest and their tail. Common diseases that affect these dogs are cancer, dysplasia and heart failures.
Energy and Stamina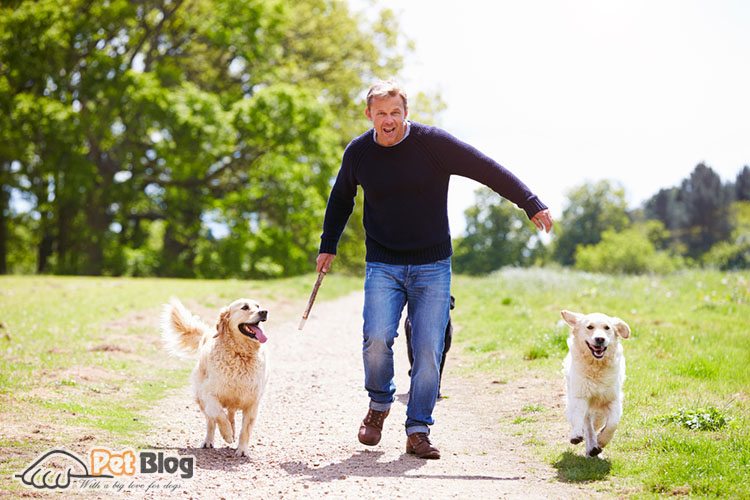 For an energetic adult, it is recommended that he takes 1800 calories daily. Senior dogs, however, may take less especially if they are already neutered or spayed. The calorie intake may vary in each dog. It all boils down on their metabolism and routine activities given to them by their owners.
To be expected though that puppies and young adults must eat more food since they are still growing. The more exercise a dog does, the more food or calories they need to support them. Well, nothing is really specific since every dog is unique in their own way. They may need more or less, it depends!
Protein and Omega 3 and 6 Supplements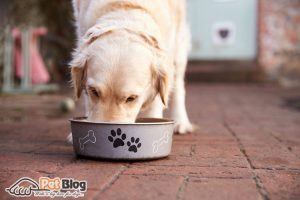 AAFCO recommendation for protein intake is 22% protein for fast growing puppies and 18% for an adult supplement. This will hold correct for all kinds of breeds but usually, best dog food for Golden Retrievers offers more than these.
This breed is a winner when it comes to sports, obedience, search and rescue, tracking and walking guide aside from being a family's best friend. They certainly need good and constant protein and fat supplement.
Food to Protect them from Diseases
The average lifespan for these handsome dogs is 11 years but unfortunately, they have genetic diseases that may cause to be a health problem if they are well taken care of. They must be given the proper kind of food. Common problems are hips and elbows dysplasia, eyes cataract and heart failures.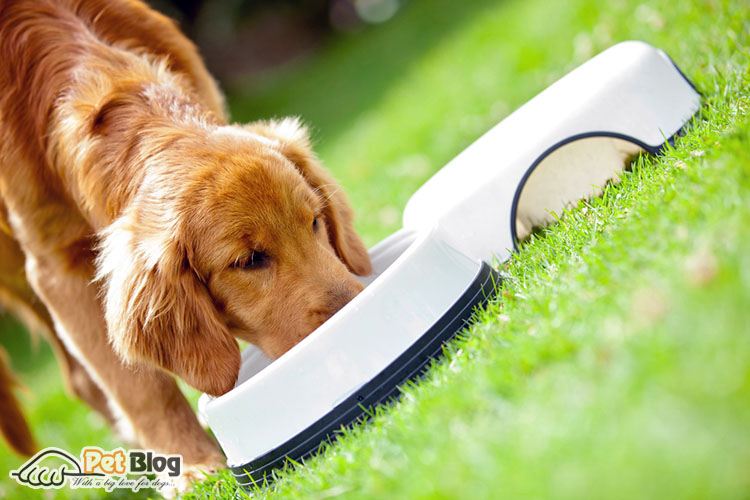 The food you choose to feed your dog plays an important role for them to battle with these cruel diseases. Make sure you give your dog the Best Food for Golden Retrievers.
What are the different types of dog food to choose from?
In your food selection, it is up to you to determine what kind you need to buy. Let me show you some options.
Wet or Dry Dog Food
Would you rather give your Golden Retriever wet food than dry food? Which is which? Dry kibbles are one of the fast moving in terms of market sales. Maybe this has to do with these advantages.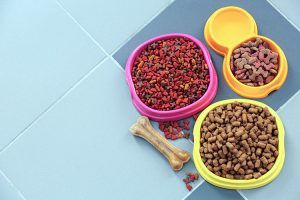 Convenient
Affordable
Prevents plaque build-up
Longer shelf-life
Wet food, unfortunately, is a bit expensive compared to dry food. When it is already opened, you need to consume it right away since it spoils easily. Short shelf-life, so you need to refrigerate. In the good side though, wet food has advantages.
Is always superior in quality
Does not have chemical preservatives
Easy to chew
Has the best nutrition contents.
Tastes good, perfect for picky eaters.
Now you already know what to consider when buying dog food for your golden retrievers. Proper nutrition to cover dog physical needs, dry or wet kind and those that does not contain harmful ingredients. Let us proceed to our Best Dog Food for Golden Retrievers review.
#1 – Wilderness Blue Buffalo High Protein Dry
Looking for a grain-free dog food for your sensitive dog? Wilderness Blue Buffalo contains real duck flavor that is high in protein.
It has no poultry, corn, wheat or soy ingredients but instead, it is packed with a blend of vitamins, minerals, and antioxidants. This product features a complete balance of carbohydrates and calories to support your Golden Retriever's dietary needs.
Pros

Cons

Maintains dog shiny coat
Worth the price
No artificial colorings and fillings
Fast delivery
Good for the digestive system
High Quality

Have received a badly conditioned delivery
#2 – Castor & Pollux Organix Dry Dog Food
This product is specially formulated for large dog breeds boasting their main ingredient as organic free-range chicken. Food content is rich in fiber thus supporting good digestive function giving your Golden Retrievers a healthy everyday life. Proven to be free from harmful chemicals, this stands as Certified Organic!
Pros

Cons

Best in maintaining shiny coats
Gives energy boost
On time delivery
Worth the price

Have received low-quality delivery
Caused diarrhea
#3 – ROYAL CANIN BREED HEALTH NUTRITION
Royal Canin is rich in Omega and fatty acids to help maintain the shiny coat of your Golden Retriever. It also promotes L-carnitine that takes care of your dog's heart and muscles health. Lastly, antioxidants to neutralize free radicals and boost up your buddy's immune system.
So when we are close to mother's nature, our ingredients are simply synthetic supplements. It is a dog's instinct to consume whole prey animals so made a dog food that gave your dogs exactly that!
Pros

Cons

Good for the digestive system
Maintains shiny coat
Best for fast growth
On time delivery
Worth the price

Have received poor quality delivery
#4 – Wellness CORE Natural Grain Free Dry
Wellness Core is promoting grains-free, complete and balanced nutrition for your dog's daily supplement. Contains a high level of protein, vitamins, and minerals they boast of being all natural ingredients. Strictly no wheat, soy, corn not artificial colors and fillings!
Pros

Cons

Reliably good nutrition
Great for maintaining shiny coat
High-quality
Worth the price
Good for digestive system
Fast delivery
#5 – Orijen Acana Regionals Appalachian Ranch
Want a delicious and natural way to feed your Golden Retrievers? Acana's grain-free dog food keeps your dog healthy, happy and strong. It has a limited ingredient and single-source protein as a natural diet. Our dog food formulas are based on the nutritional philosophy that dogs thrive on a diet mainly comprised of meat. So we made this dog food for you with 100% grain-free. So who wants Turkey?
Pros

Cons

Nutritious
Worth the price
Good in maintaining shiny coat
Healthy digestion

They do not have resealable bags
My Best Pick!
Now it is time for my personal favorite. You must be curious on what I will choose. I know you already have in mind what to select from among the rest so please do not be worried if we do not have the same choice. As I have mentioned earlier, all the products on the list were already winners. Whatever it is you will buy, it is still the best! And now, my best pick is,
Wilderness Blue Buffalo High Protein Dry
Blue Wilderness for me is the Best Dog Food for Golden Retrievers. It is my best pick for this review since it has all the factors that my dog really needs. It is within my budget and importantly, my dog is highly-sensitive so the nutrition advantages It offers exactly covers my buddy's likes. I firmly believe that my dog will receive a well-balanced diet and at the same time is protected from any diseases. I am so excited!
Conclusion
How was our review for today? Did we help you in any way? Our purpose for this article is to aid you in buying the Best Dog Food for Golden Retrievers and if ever you have bought one because of this we are glad to be of great help. Remember, our dogs are all unique, so they all have different needs. That is why we have 5 best of the best products for you to pick! Share this to all Golden owners out there who are having a headache in choosing the best dog food for their dogs! Till next time!