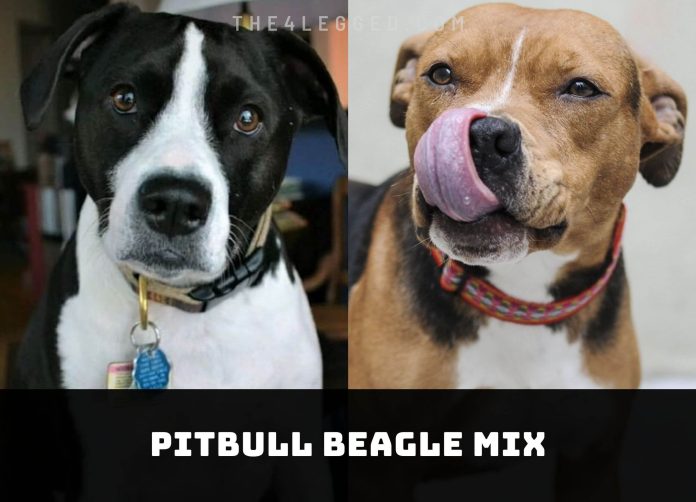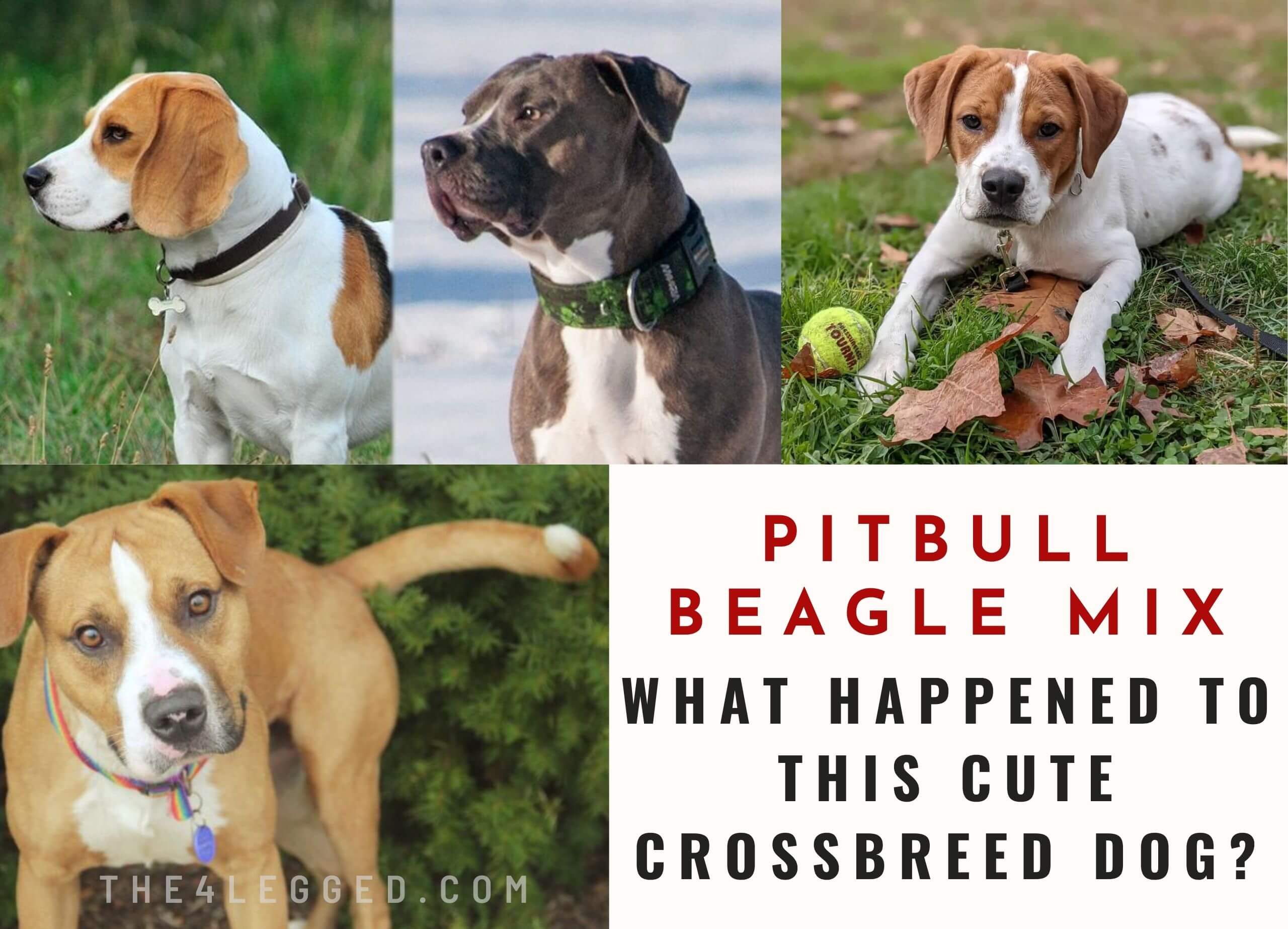 Have you ever wondered: What happens when people cross a Beagle with a Pit Bull? Is it possible? The answer is absolutely YES. And the result is the world has Pitbull Beagle Mix – one of the most amazing crossbreds ever. Are you curious about this dog breed? Do you want to know the Facts, Stories, Common Misconceptions and What Happened To This Cute Crossbreed Dog? Find Out Here!
What Is A Pitbull Beagle Mix And Why Did It Become Popular?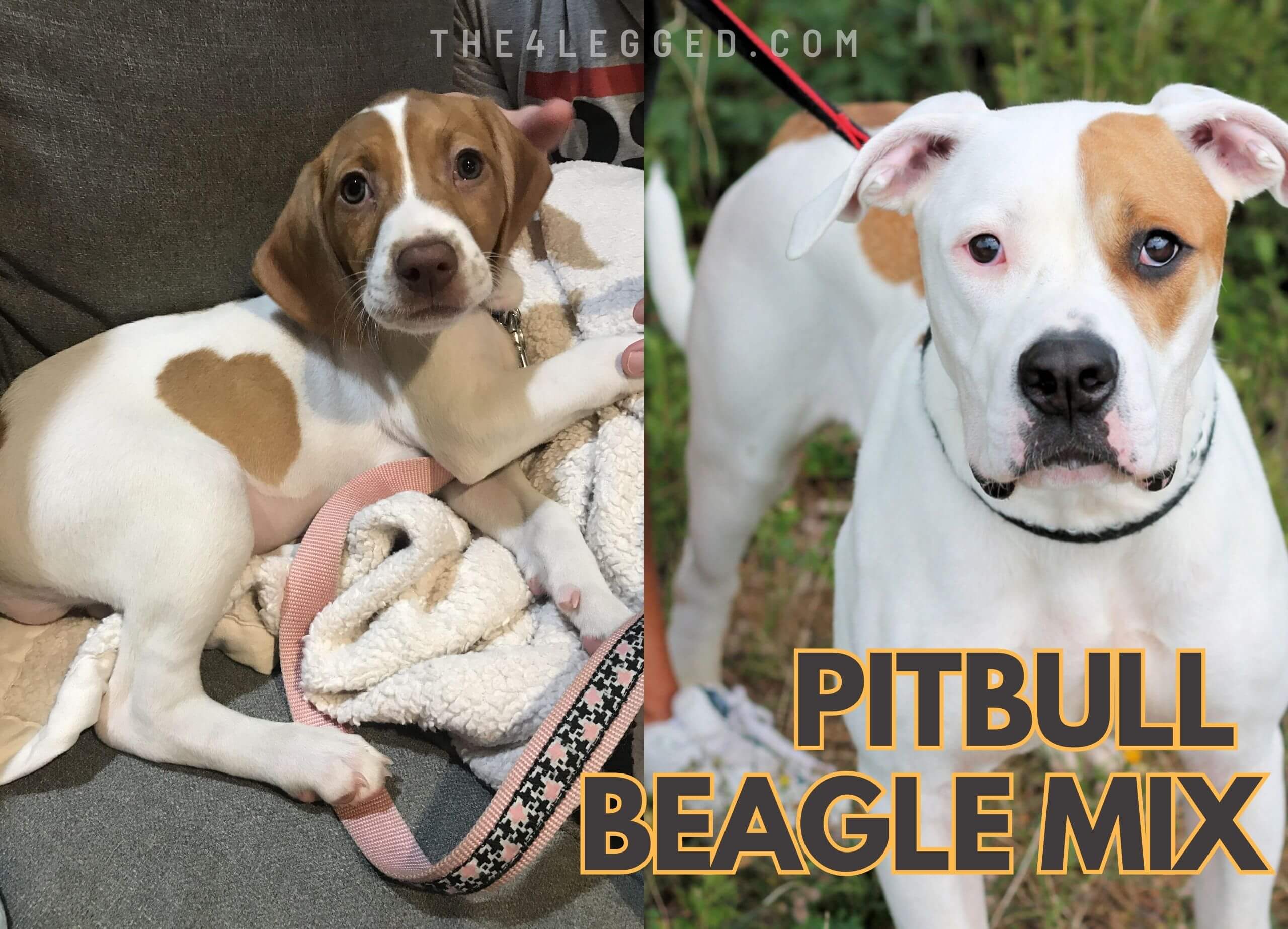 Pitbull + Beagle = Pitbull Beagle Mix?
Basically, "Pitbull + Beagle = Pitbull Beagle Mix" is a completely correct and simple interpretation of how Pitbull Beagle Mix was created. The Pitbull Beagle Mix (otherwise known as the Beaglebull, the Pibble, or the Pitbea,…) is a crossbreed dog that results from breeding a Pitbull and a Beagle.
And the interpretation above is just a simple understanding of how the Pitbull Beagle Mix was made. But if you are serious about breeding a Pitbull Beagle Mix, you must get the help of a professional breeder or a dog expert.
The History And Origin Of The Pitbull Beagle Mix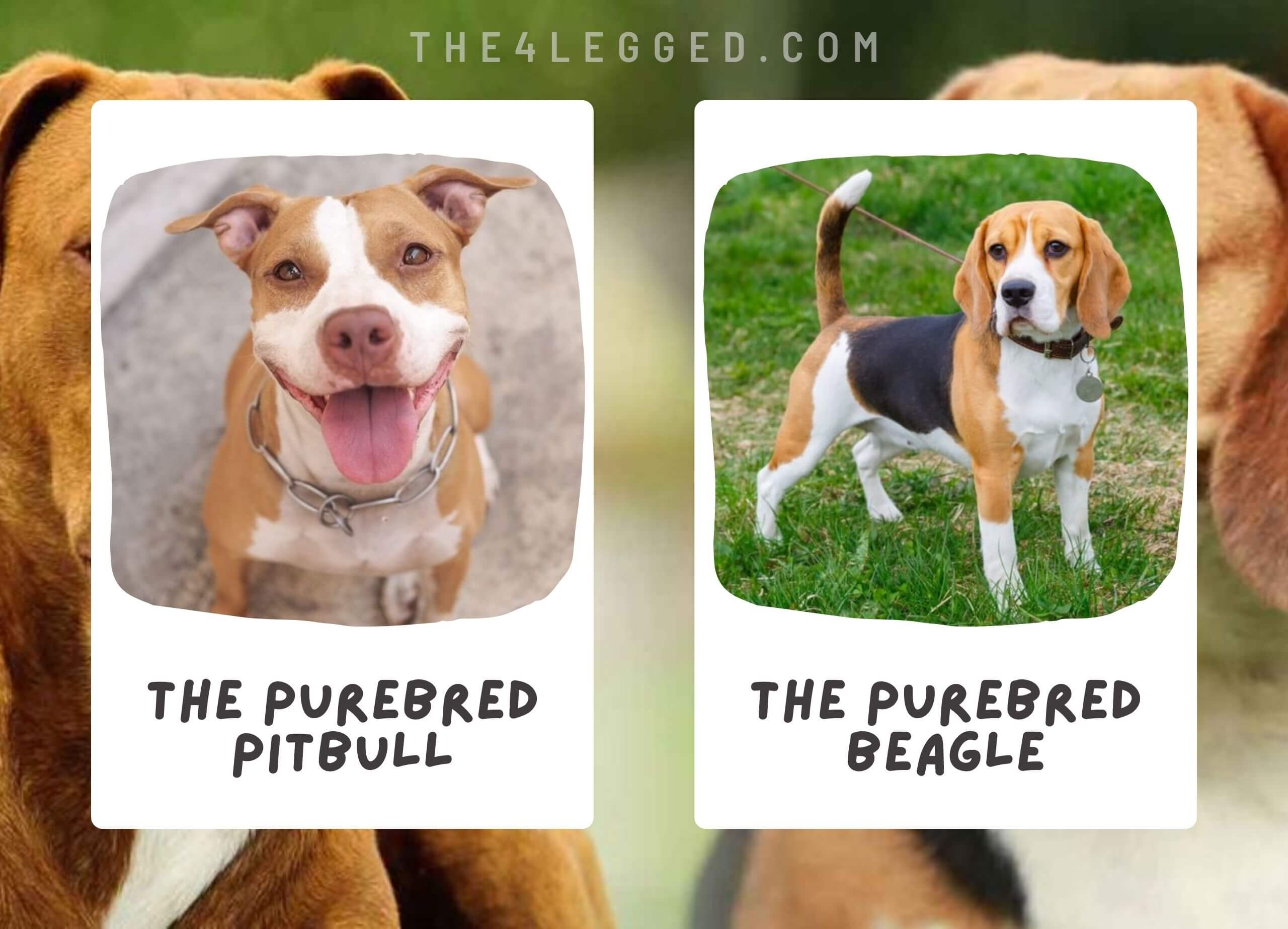 This dog is a relatively new addition to the list of crossbreed dogs. They have only been around for at least two decades and gained recognition in the canine community recently. The precise origin and history of this dog are unknown. However, they are thought to have originated in the United States – have the same origin as many other hybrid dogs. The Pitbull Beagle Mix is an uncommon breed. Getting to know their parent's breed: the Pitbull breed and the Beagle, is the most effective way to understand this crossbreed dog.
Beagles are also a dog breed that does not have a distinct origin. However, certain evidence indicates that they are believed to have originated in England. They have become a popular hunting breed throughout the years. Despite their diminutive size and slower running speed when compared to other dogs, they have been known to effectively chase foxhounds. Beagles are petite, gentle, and humorous canines with a wicked side. As a result, it is practically mandatory for dog owners to begin teaching their beagles at an early age, particularly their socializing abilities. Beagles enjoy food and treats, but they should be fed in moderation.
One of the most misunderstood breeds is no dog breed else – Pitbull. With a bad reputation for being ferocious and aggressive, they still have a bad impression in the minds of many people. Poor cutie and lovely Pitbull! This dog breed is famous for being protective and powerful, they are also friendly, loyal, and make perfect family dogs. They are watchful and safe with people, even children, and other small animals. They are quite clever, especially if they are properly trained and socialized. Therefore, Pitpull totally deserves your love.
Reputation Of Pitbull Beagle Mix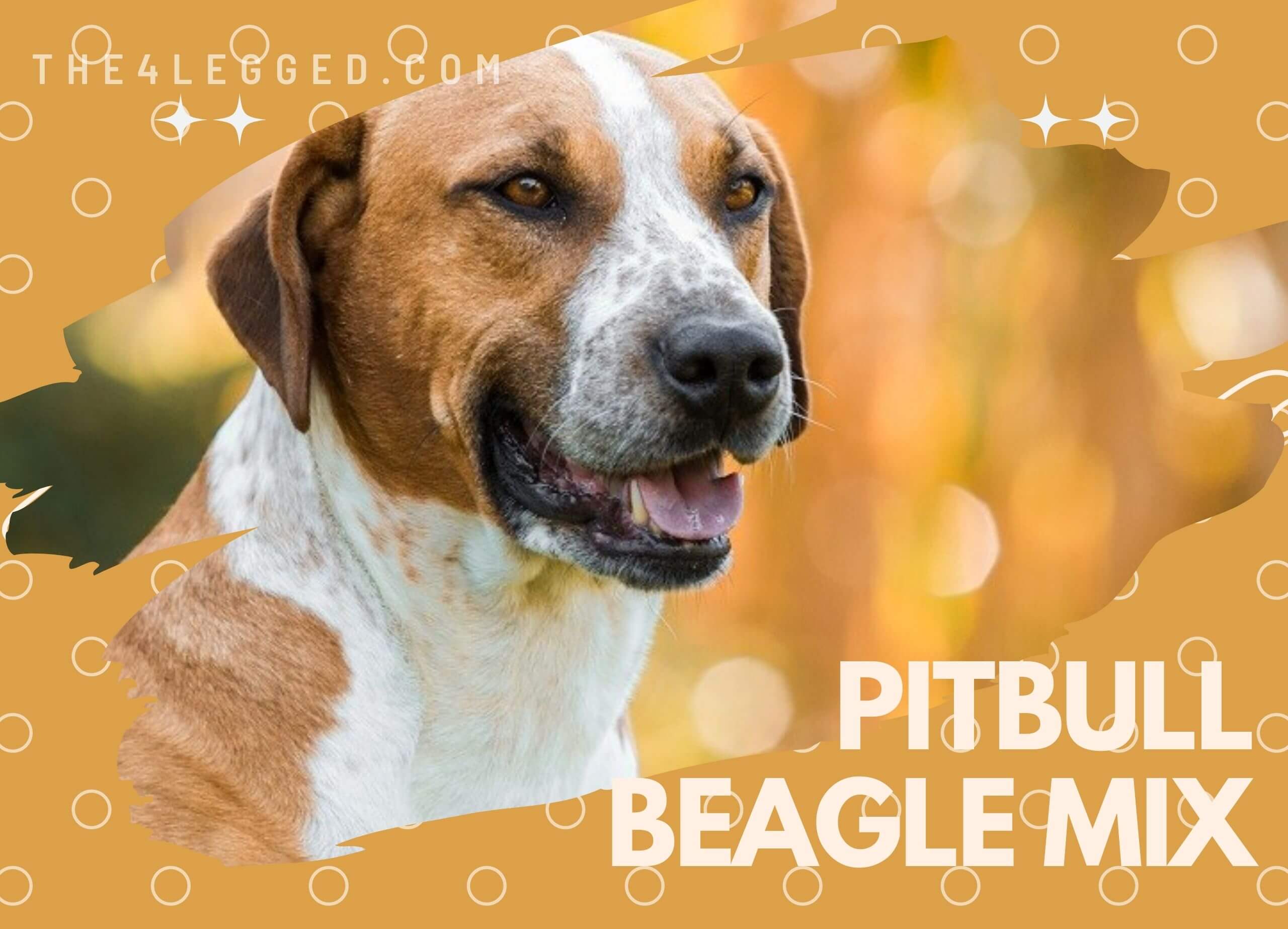 When designer dogs were popular in the 2000s, the Pitbull Beagle Mix was also a "hot trend" at that time. Many people were intrigued by the idea of having a cute and loyal buddy who was also powerful and active. However, this dog's popularity faded with time. What Happened To This Cute Crossbreed Dog?
Pitbulls and their image as aggressive and deadly dog breeds have sparked debate.
Finding reliable breeders or rescue groups that provide this hybrid dog is tough.
This dog breed lacks breed standards and uniformity in appearance and temperament.
The high level of caring and responsibility that comes with having this crossbreed dog, such as giving adequate exercise, training, socializing, and medical care.
Pitbull Beagle Mixes may take longer to adapt to training and instruction. They tend to be more difficult to train than other breeds.
The Pros And Cons Of Owning A Beaglebull
| | |
| --- | --- |
| PROS | CONS |
| Beagle Pitbull Mix is super friendly, loyal, and affectionate. | They can be destructive if bored or left alone for an extended period. |
| Ideal for families that live an active and adventurous lifestyle | Beagle Pitbull Mix is not suitable for people who don't have an active lifestyle. |
| Exercises, whether mental or physical, are their priority. | Because of hostility and a high prey drive, other pets in the house may be a problem. |
| One of the perfect symbols of the family guard dog. | Neighbors may be bothered by loud baying. |
| Easy to care for and groom, have the strong health base | This crossbreed is unusual, many dog owners are concerned that their dog would become aggressive. |
The Physical And Personality Traits Of The Beagle And Pitbull Mix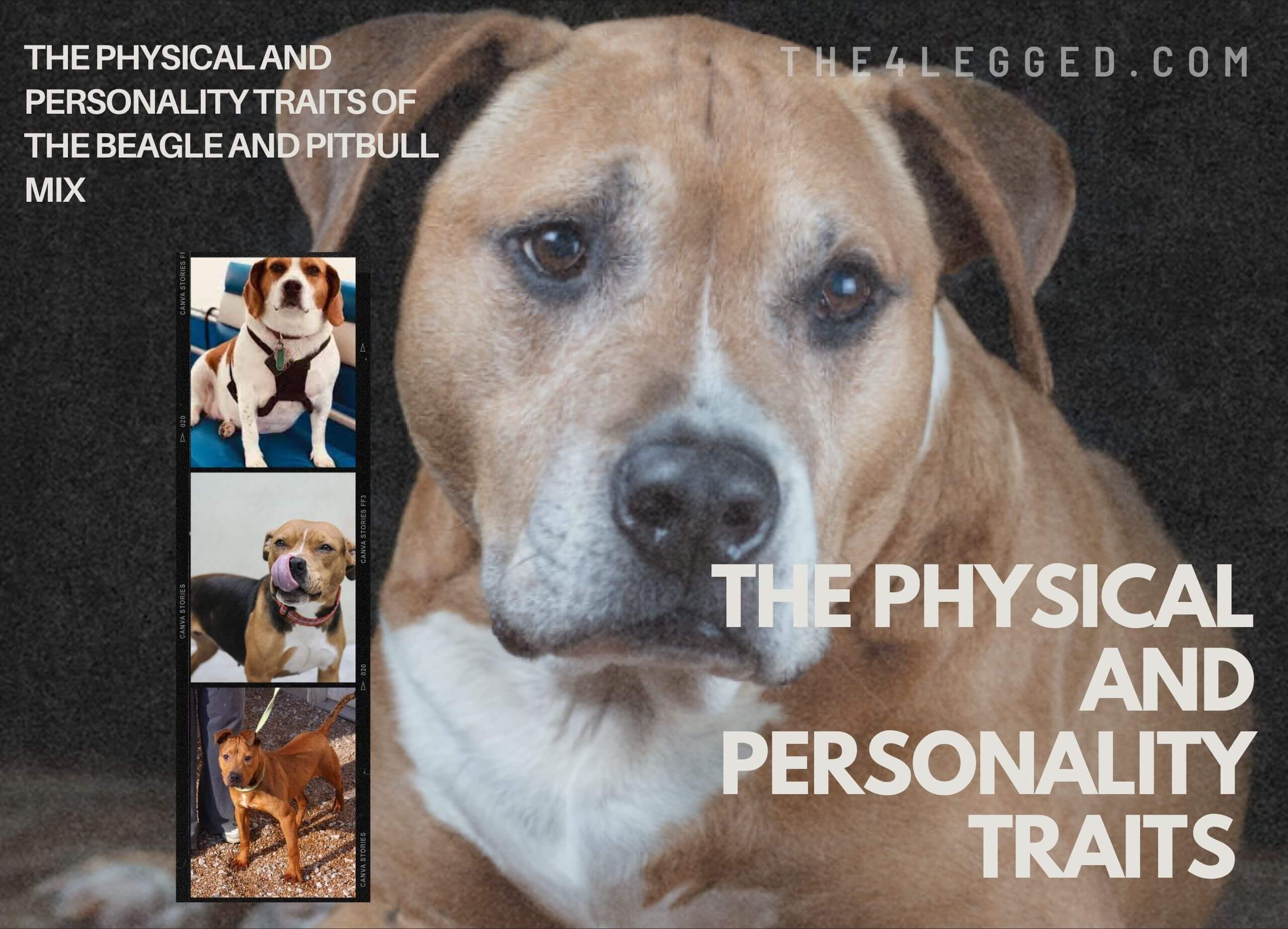 Breed Overview
| | |
| --- | --- |
| Weight | 30 – 40 lbs |
| Height | 18 – 20 inches |
| Size | Medium |
| Coat Type | Short single or double coat |
| Coat Color | Light brown, or tri-colored with a combination of black, white, and tan. |
| Amount of Shedding | Average |
| Life Expectancy | 10 – 16 years |
| Temperament | Friendly, loyal, playful, protective, sociable, smart, and territorial. |
Beagle And Pitbull Mix Is Loved Because Of Its Appearance
Their looks will be a good combination for both parents: Pitbull and Beagle. The Beagle And Pitbull Mix stands from 18 to 20 inches high and from 30 to 40 pounds in weight.
Pitbulls have strong bodies and floppy ears, whereas Beagles have petite bodies, long drop ears, and wide eyes. Pitbulls typically have a single-color coat, whereas Beagles are frequently tri-colored: with a mixture of white, black, and tan. Therefore, the color coat of the Beaglebull is harder to predict. But normally, Beagle And Pitbull Mix has a short coat with light brown, white, gray, brindle, or even red, blue.
The Personality And Temperament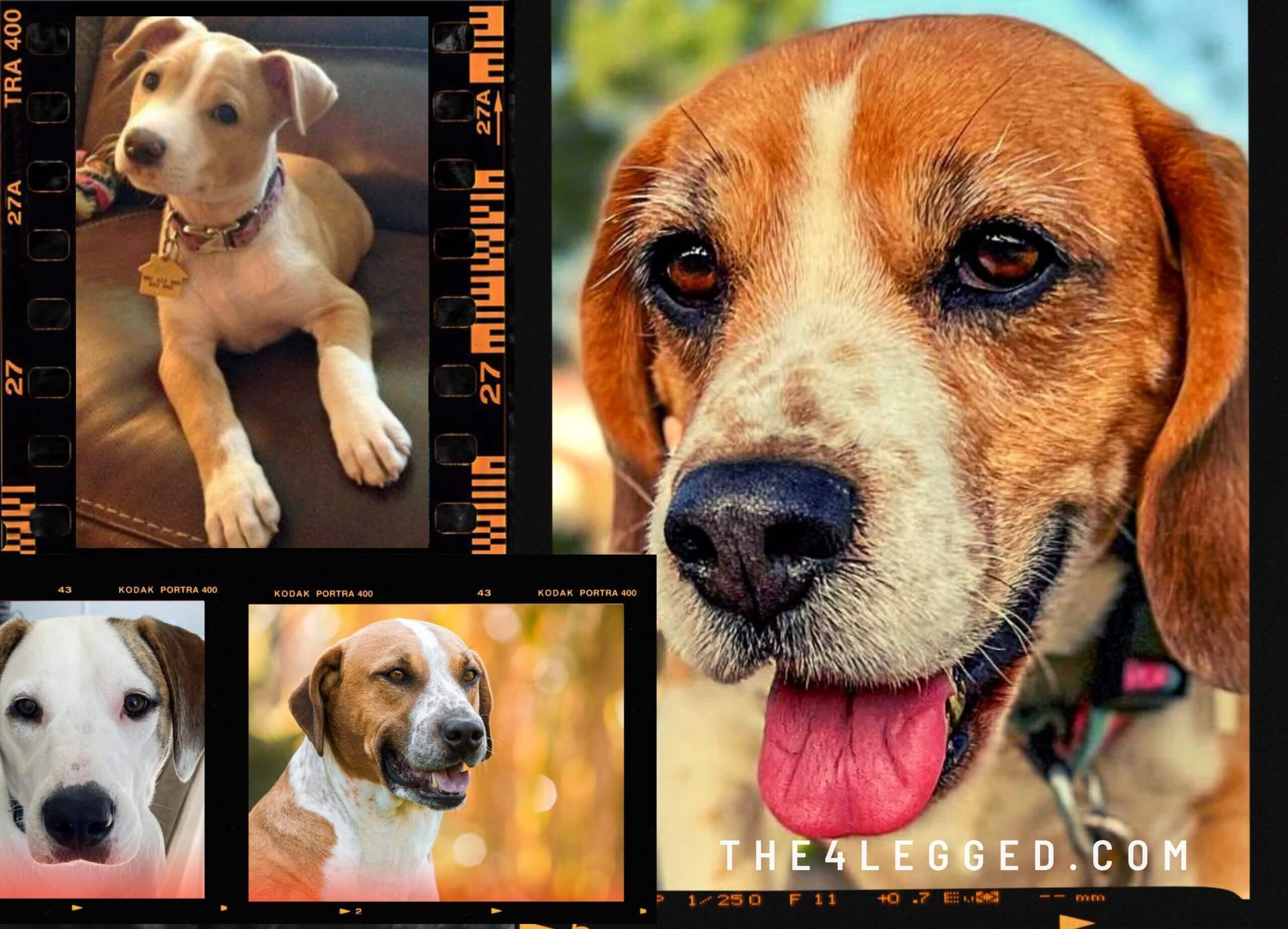 It is not an exaggeration to say that If you have ever owned a Pitbull or Beagle, you will understand how wonderful, lovely, and devoted they are. So, how about a crossbreed of these two? Do Beagle And Pitbull Mix Dogs are friendly, loyal, and playful like their parent breed?
Beagle And Pitbull Mixes retain much of the Beagle traits including stubbornness, sobbing, and moderate separation anxiety. However, they will be considerably more active and affectionate, similar to Pitbull. Early training will allow you to bring out the best traits in both breeds in your Pibble.
But this is not good news for dog owners who appreciate dog training. Beagle And Pitbull Mix, on the other hand, may not respond as fast to instruction and training. In fact, they may appear to be more difficult to teach than other dogs. However, it does not mean this hybrid dog is not intelligent. This characteristic of the Beagle And Pitbull Mix has nothing to do with their IQ. They are simply stubborn as their natural Temperament. Patient and consistency in the training method are one of the most important things for Beagle And Pitbull Mix's owners.
The Common Misconceptions About The Beagle And Pitbull Mix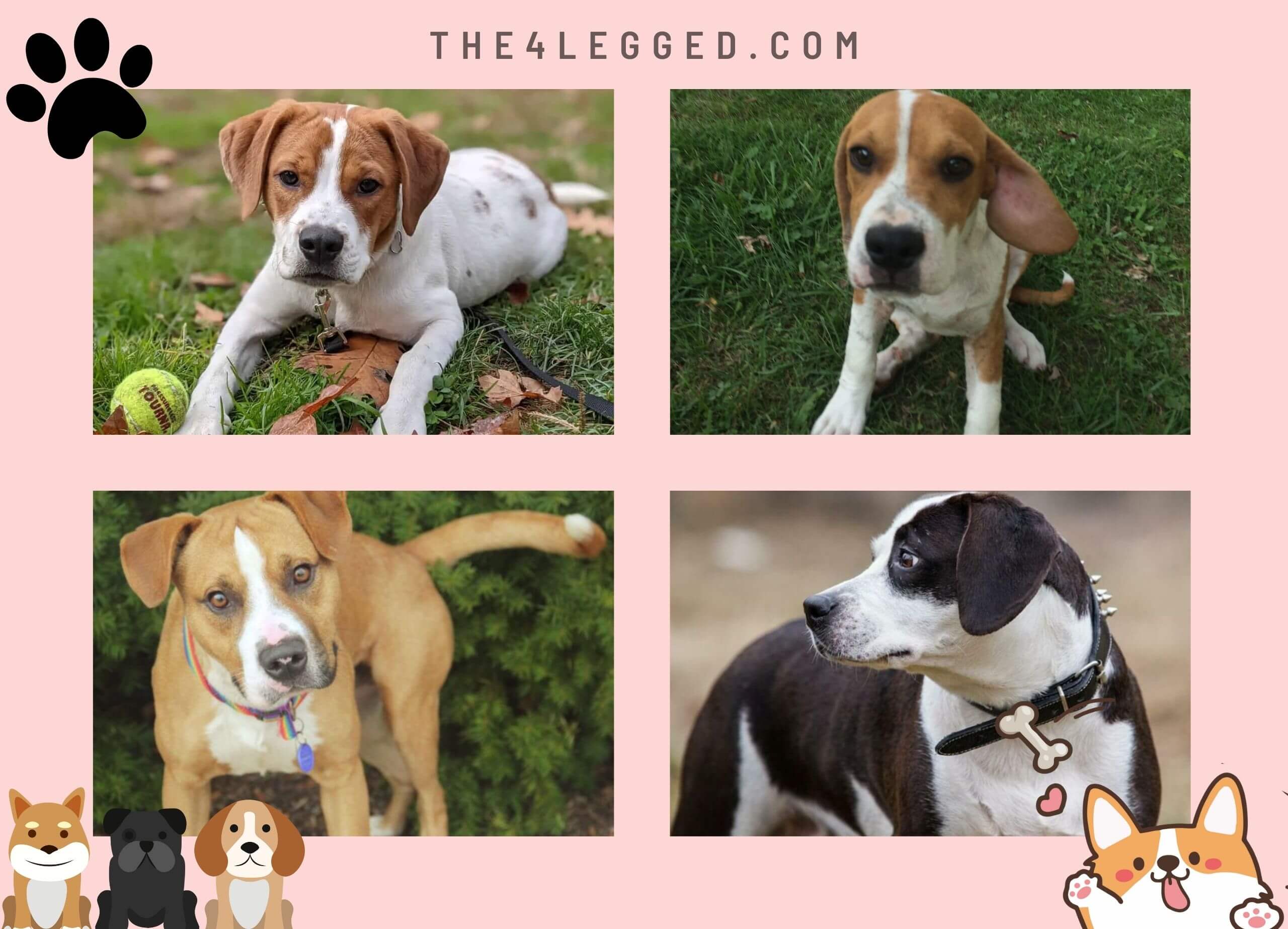 The Beagle and Pitbull Mix is often misunderstood and misjudged due to the misconceptions that surround its parent breeds. Here are some of the common misconceptions about the Beaglebull that you usually hear about this hybrid dog.
Misunderstood: The Beagle and Pitbull Mix is aggressive and dangerous.
Fact: They are not inherently aggressive or dangerous. It is ridiculous when labeling any type of dog as aggressive, harmful, or something like that. Aggression is not a trait but an umbrella term for a series of behaviors that can be influenced by many factors beyond genetics, such as prenatal development, socialization, training, environment, and health. The Beaglebull can be friendly, loyal, protective, and intelligent, depending on how they are bred, raised, and treated by their owners and others.
Misunderstood: The Beaglebull has a locking jaw.
Fact: The Beaglebull does not have a locking jaw. This is really insane because No dog has a locking jaw, as there is no special mechanism in their jaws that makes them lock into place. The Beagle and Pitbull Mix may have a strong bite force due to its muscular body and strong jaw, but it can release its grip at any time. So, let's get this weird idea out of your mind for now.
Misunderstood: The Beagle and Pitbull Mix is not good for families.
Fact: The Beagle and Pitbull Mix can be good for families if they are well-socialized, trained, and cared for. However, for some people, Pitbull is still a big threat and they do not believe this dog breed can be friends with children. But in reality, both the Beagle and the Pitbull are known for being family-friendly dogs that are affectionate, playful, and loyal to their human companions. The Beaglebull can get along with children, other dogs, and other animals if they are introduced properly and supervised. Therefore, they are perfect choices for a "nanny dog" position.
The Health And Lifespan Of The Pitbull And Beagle Mix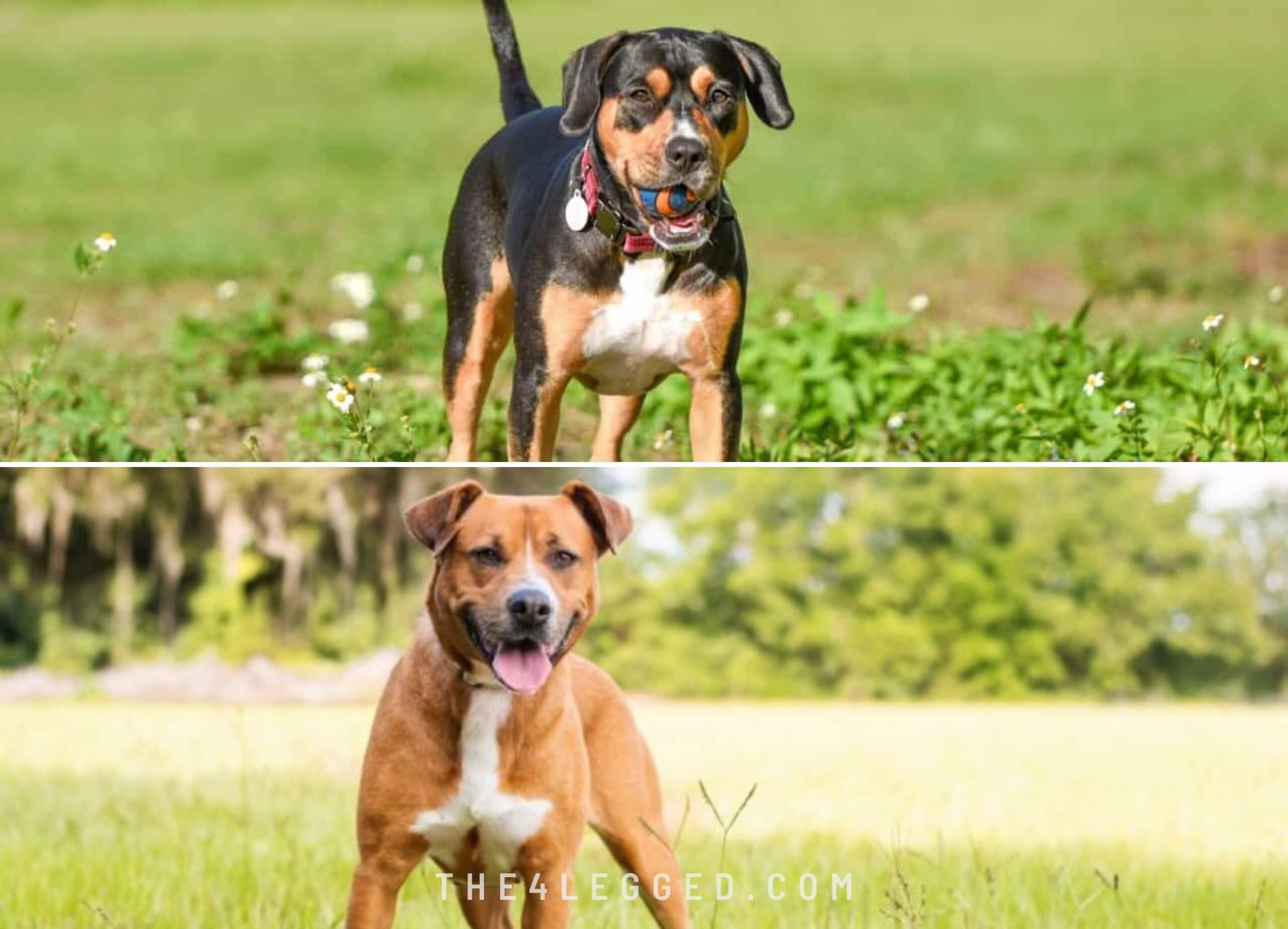 Aside from appearance and temperaments, Health And Lifespan are also one of the most important reasons that dog lovers need to consider before adopting a Pitbull And Beagle Mix.
Health Issues – One Of The Big Problems That Make Pitbull And Beagle Mix Not A "Hot Pet" Anymore?
Although Pitbull And Beagle Mix dogs are typically healthy, they may have some underlying health concerns due to their parent breeds. Regular check-ups can help prevent or treat health problems that are frequent in the Pitbull And Beagle Mix. Like any other crossbreed dogs, some common typical health problems that they may face:
Addison's disease: A hormonal illness affecting the adrenal glands, Lethargy, low blood pressure, vomiting, and weight loss,… is the result of this symptom.
Skin issues: A disorder that develops in scaly areas on the skin due to sun exposure.
Allergies: Include food allergies, environmental allergies, and flea allergies, which can cause itching, inflammation, and infections.
Dental Issues: Such as periodontal disease, tooth decay, or tooth loss, can have an impact on the dog's oral health and general health.
Eye Issues: Cataracts, glaucoma, progressive retinal atrophy, and cherry eye are examples of eye issues that can impair a dog's vision and eye health.
Hip dysplasia: A hereditary condition that causes discomfort, stiffness, and arthritis in the hip joints.
Elbow Dysplasia: Similar to Hip Dysplasia, Elbow Dysplasia is an inherited disease that affects the elbow joint. It can cause joint inflammation, cartilage damage, and bone spurs. In addition, it might cause discomfort, arthritis, and lameness in the afflicted limb.
Bloat: A serious health condition that happens when the stomach fills with gas and twists, resulting in symptoms such as abdominal distension, restlessness, drooling, and shock.
Well, a long list of health problems, right? But do not panic, this is just a list of almost common diseases of dogs that Beaglebull may face. It does not mean that your dog will have all the health problems mentioned above.
With Health Issues, Does Pitbull And Beagle Mix Have A Long Lifespan?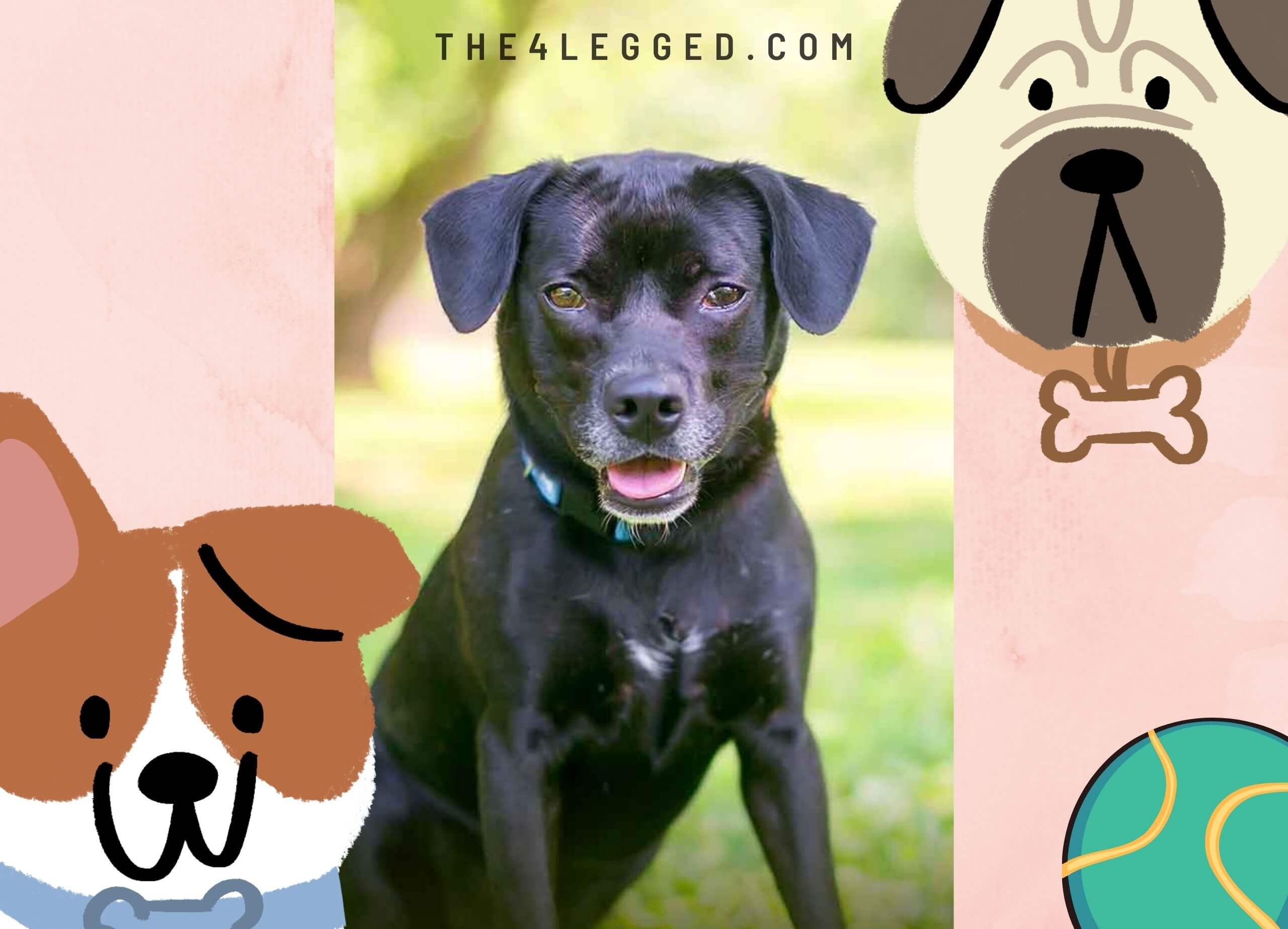 As noticed before, Pitbull And Beagle Mix is a typically healthy dog. Therefore, they are likely to have a long lifespan.
According to statistics and research on Pitbull And Beagle Mixes, this hybrid dog has an average lifetime of 10 to 16 years. This might vary based on the dog's size, health, and genetics. In addition to the above factors, whether or not Pitbull And Beagle Mix has a long lifespan also depends on their lifestyle, living environment, well-balanced diet, socialization, and proper training of their owners.
Food Requirements For Pibble
To keep Beagle Crossed With Pitbull healthy, it is necessary to provide them with a well-balanced diet. There are plenty of methods to control dog health that you can easily find and follow. However, the most effective method to help your dog be strong and happy is to have a healthy eating mode that specializes in Beagle Crossed With Pitbull.
Understanding the right amount of energy per meal for the day can help dog owners have the right combination of protein, fat, vitamin, fiber, vegetables,… in dog meals.
But your life is too busy for calculating each ingredient in dog meals. Do not worry, one easier tip is: dog owners just need to find the proper brands of dog foods that contain high Omega 3, Omega 6, Vitamin E ingredients,… on the market.
Beagle Lab Pitbull Mix Exercise Requirements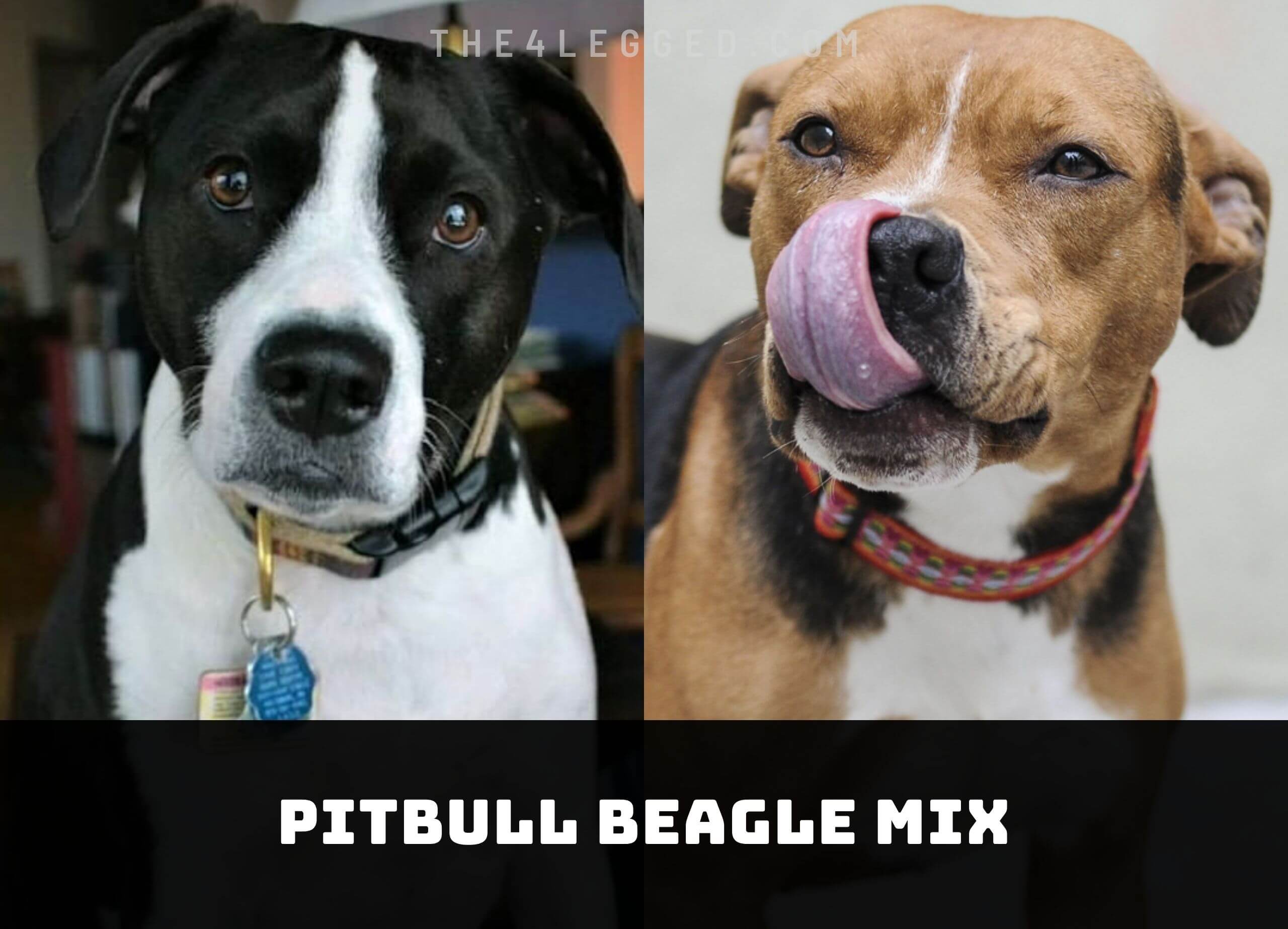 To satisfy their physical demands, a breed as lively and energetic as the Beagle Lab Pitbull Mix needs a lot of activities and workouts. Often, simply allowing them to run around the backyard is insufficient because they require extra exercise such as a run or a walk. If you don't offer them enough exercise, they may develop destructive behavior, one of the most negative behaviors that every single dog owner wants to prevent. Owning a dog to please your emotions. But at the same time, you are also responsible for satisfying the basic requirements of your little pet's buddies.
Here's what you can do to help Beagle Lab Pitbull Mix get some exercise:
Prepare for a lengthy stroll once or twice a day.
Do not lie back all day. Go to the park or anywhere to exercise with your dog.
Spend more time with your little "buddies" with your children or with other animals.
Relieve Separation Anxiety In Beagle Mixed With Pitbull
It's hard to believe that separation anxiety in Beagle Mixed With Pitbull (the fear of being separated from the owner) is one of the common causes of their health. The most typical reasons for separation anxiety in dogs include abandonment, being home alone, or even loud noises,… Separation anxiety in dogs is explained clearly in the video below of Rachel Fusaro – a famous dog trainer on Youtube and other social media platforms.
Therefore, to control the dog's health, the Beagle Mixed With Pitbull owners ensure to relieve separation anxiety in their dog. Many methods can be considered, such as Increasing playtime, spending more time and regular exercise with Beagle Mixed With Pitbull, maintaining a stable living environment, restricting loud noises,… Just by applying these methods for relieving separation anxiety, dog owners no longer have to worry about the health issues of Beagle Mixed With Pitbull.
Grooming Requirements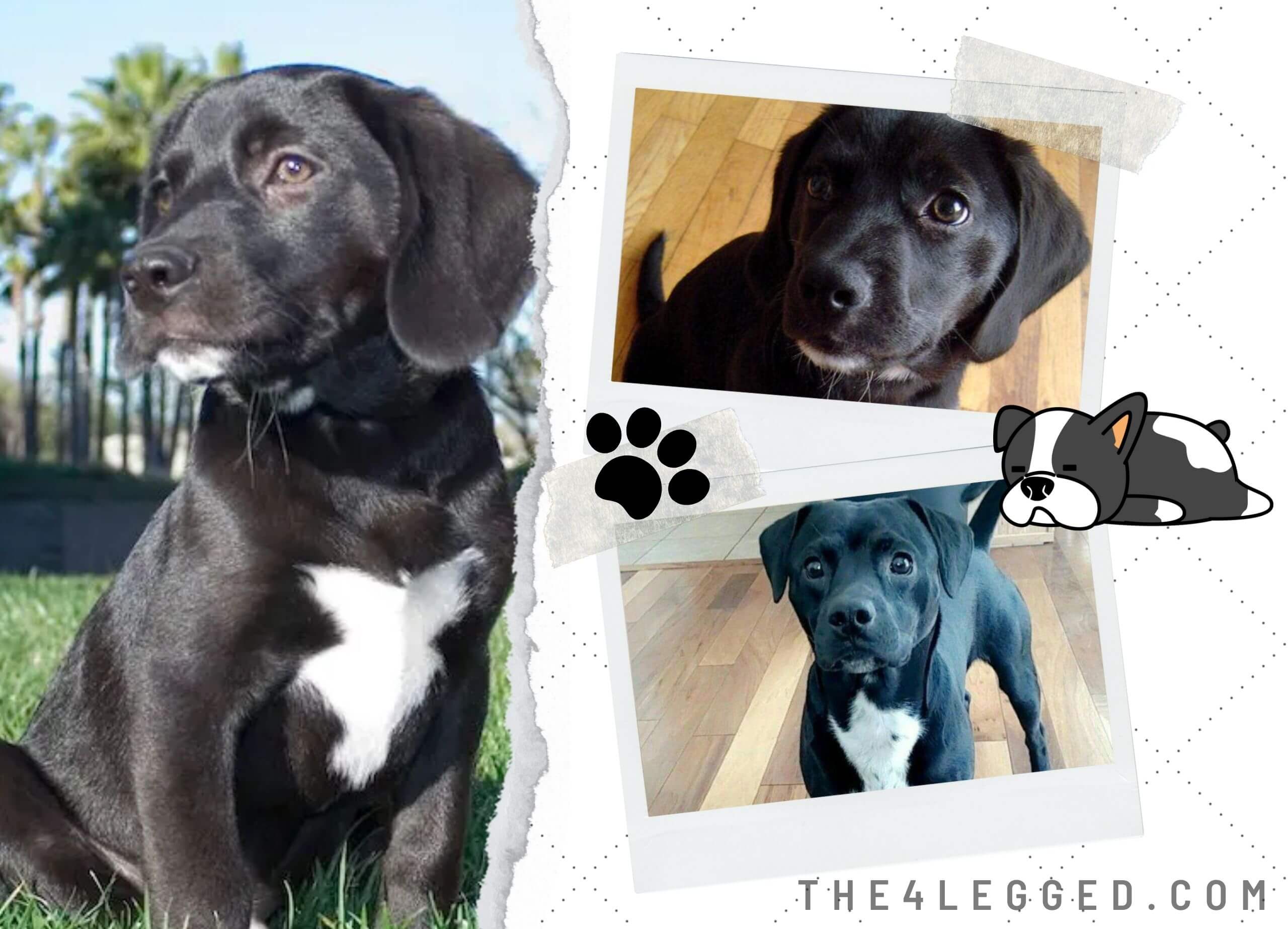 If dog shedding is your "nightmare", especially dog shedding season makes you get mad. Congratulations! With Beagle Pitbull Mix – Grooming is probably the easiest part. Grooming dogs is an important aspect of their care. Proper grooming can help to keep the dog clean and healthy, and can also promote bonding between the dog and owner.
Beagle Pitbull Mixes have a short coat that may be maintained with a weekly slicker brushing. Daily grooming is not necessary for this hybrid dog.
Moreover, based on the characteristics of the Beagle Pitbull Mix, you do not need to bathe them too frequently. Once a week is overly unneeded unless the dog develops a strong odor or becomes excessively dirty. Nail Trimming, Teeth Cleaning, and Eye Cleaning are also really important for dogs. By providing proper grooming and hygiene, owners can help to keep their dogs healthy, clean, and happy.
The Training And Socialization Needs
As mentioned before, the Training And Socialization of The Pitbull Lab Beagle Mix will be a little bit harder than other dog breeds. According to research on Pibble, they may not respond as fast to training and socialization. Do not misunderstand. This characteristic of the Pitbull Lab Beagle Mix does not mean they are not smart or have problems with wisdom. They are just stubborn as their natural traits.
It might be difficult to get them to obey you. Starting when Pibble was a puppy is one of the most convenient ways to do your training and socialization. Training Pibble from an early age allows you to demonstrate your power over them, and they will listen to you. However, they may still be highly hyperactive at an early age. Attention and patience of dog owners are truly necessary for this training stage.
Training them while still puppies is critical because it reduces many negative issues such as aggressiveness. While Pitbull Lab Beagle Mixes are known to be friendly, this is due to good training and exposure at a young age. Puppies need to be socialized with other pets and children, as well as the new living environment. If they are not trained at a young age, it will be difficult for them to learn and socialize later in life. As a result, Pibble tends to be unwelcome hostility against children and other pets.
Beagle Pitbull Mix Puppy
As mixed breeds become more popular there are more breeders. Therefore, it is easier to find and adopt a Beagle Pitbull Mix Puppy.
However, as mentioned before, Beagle Pitbull Mix is an uncommon dog. So it will be a little bit harder to find a Beagle Pitbull Mix Puppy and a reputable breeder of this hybrid dog.
On the other hand, raising a puppy to become a well-behaved adult dog may seem like a tough mission, especially for a dog with stubborn natural traits like a Beagle Pitbull Mix Puppy. But one of the most benefits when you adopt a Beagle Pitbull Mix Puppy is: They can be familiar with the owner's family members as well as the living environment, and lifestyle from a very young age. Avoid undesirable situations or even negative consequences like dog aggression, separate anxiety in dogs,… when an adult dog is unfamiliar with the environment and new owners.
The Challenges Of Adopting Pitbull Beagle Mix Puppy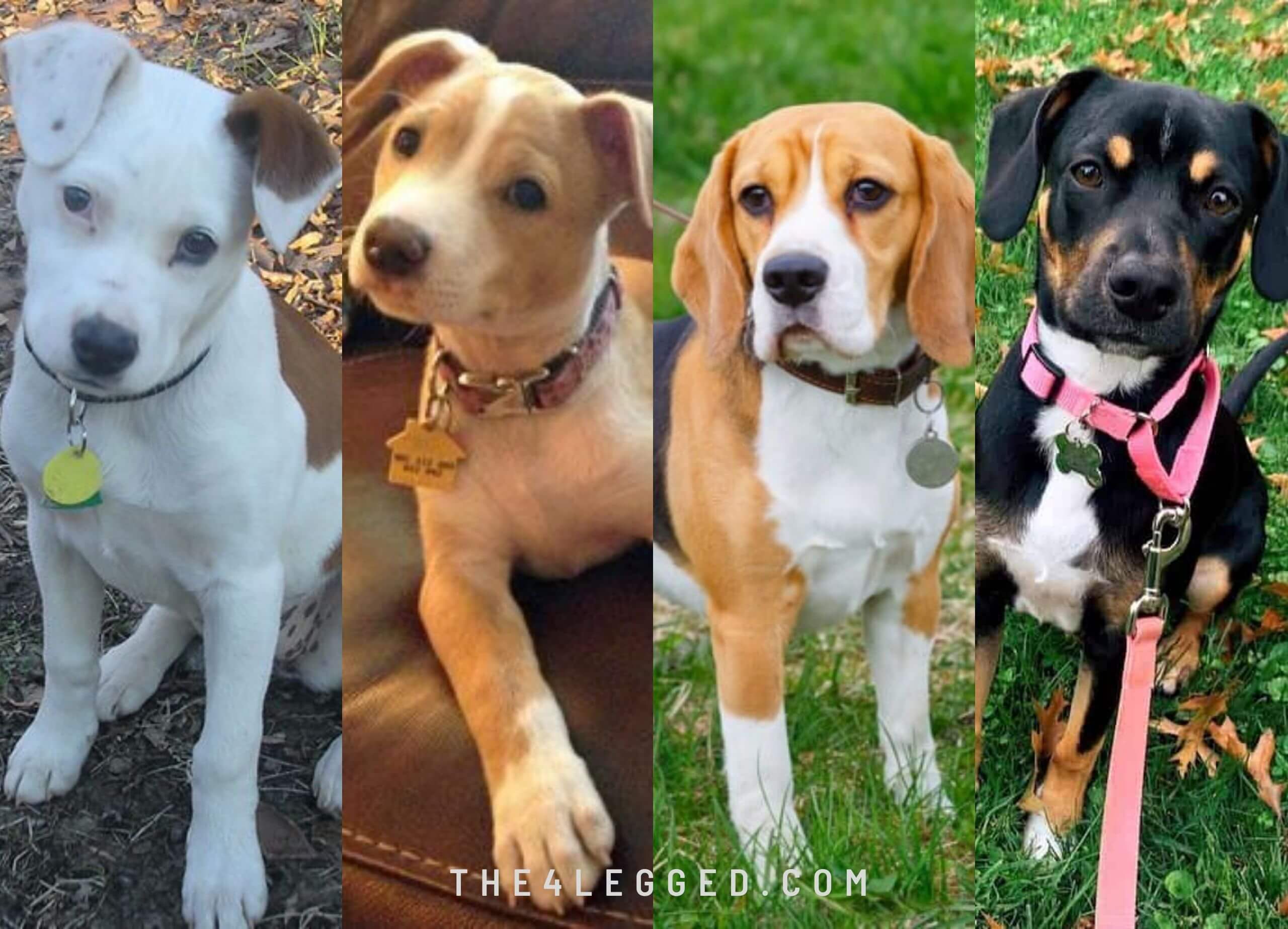 Adopting a pet is just an easy thing if you have enough financial budget and proper care for your little buddies. But in reality, owning a dog requires more than what you thought, especially a hybrid dog. Pitbull Beagle Mix Puppy also comes with some challenges that potential owners should be aware of and prepared for.
Because of the Pitbull breed's reputation in various nations and areas, the Pitbull Beagle Mix Puppy may encounter some ethical and legal challenges. Despite abundant evidence that Pitbulls and Pitbull's hybrids are completely friendly and affectionate, certain regions have breed-discriminatory legislation that prohibits the ownership of dogs that resemble specific breeds, such as Pitbulls, regardless of their true behavior, personality, and temperament. Poor little Pit and their owners but whether you want or not, this implies that Puppy owners will have difficulty in purchasing insurance, renting a house/ apartment, or even traveling with their pets. People who fear or detest Pitbulls may also show social bias and discrimination toward dog owners. They are just adorable and cutie dogs but you can not win the wide prejudice of a large number of people about Pitbull and Pitbull crossbreed dogs.
Common Q&A For Beagle And Pitbull Mix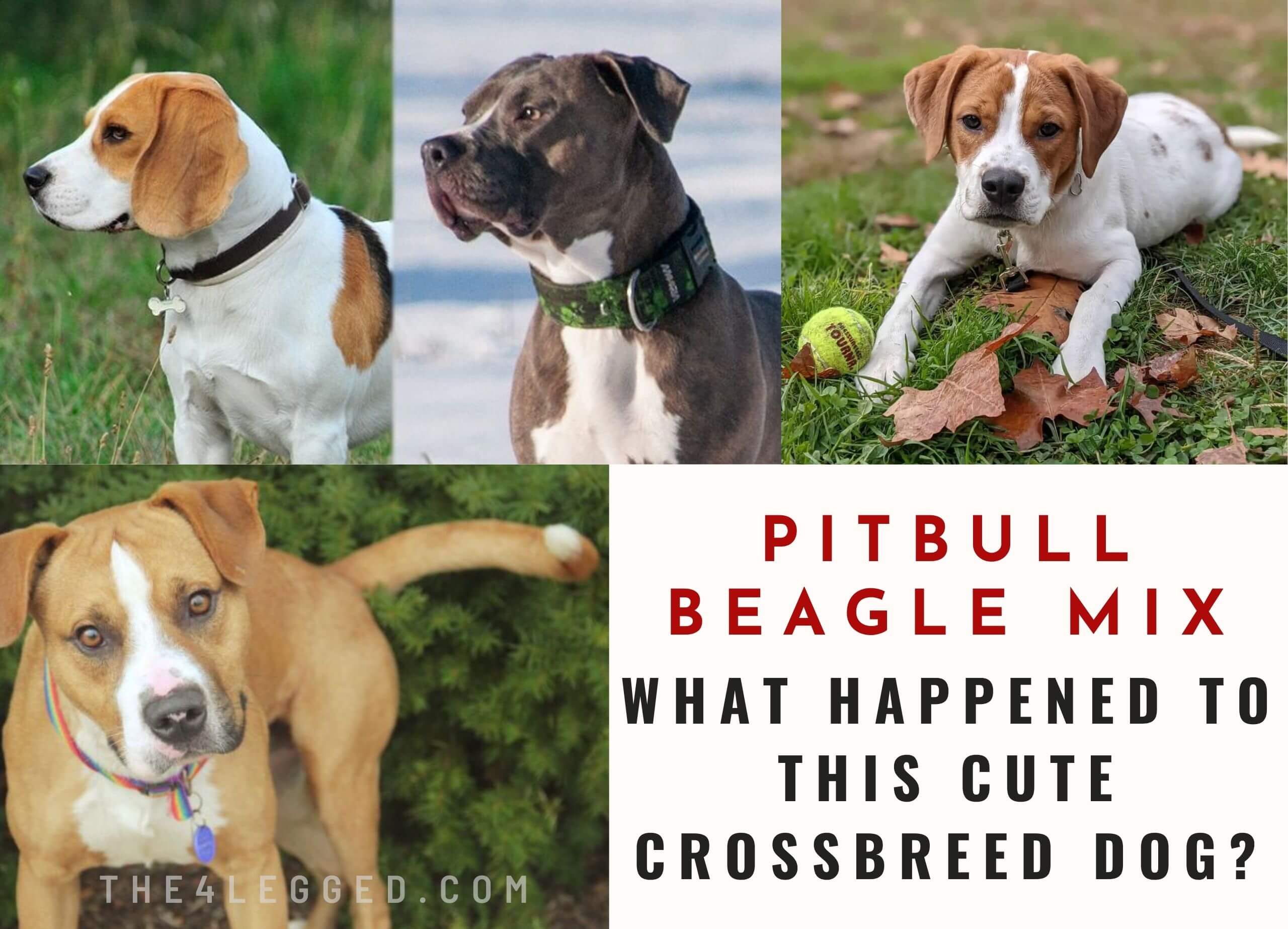 Is Pitbull Beagle Mix A Perfect Option For New Dog Owners?
No. Unfortunately, Pitbull Beagle Mix (also known as Beaglebull) is not A Perfect Option For New Dog Owners. If you are a New Dog Owner and intend to own a Beaglebull for your very first-time pet, then you better not do it. They may appear to be more difficult to teach than other dogs because of their stubborn natural temperament. As a new dog owner, you can not deal with the negative traits of Beaglebull.
Is A Beaglebull Friendly?
Yes. Beaglebull is the symbol of the family dog. They will not hesitate to leap on your lap and snuggle with you all day without getting bored.
What Are The Responsibilities And Commitments Of The Beaglebull Owner?
There are some commitments and responsibilities that The Beaglebull Owner in particular, and every single dog owners in general, have to follow, such as:
Nutrition – One Of The Most Important Things That Dog Owners Need To Focus On.
Exercise requirements of Beaglebull
Providing Healthcare Is A Compulsory Responsibility Of Dog Owners.
Offering Love And Attention
Although Pitbull Beagle Mix is not a common crossbreed dog, they are super cute, loyal, and adorable. If you are ready to commit to this breed, you will be rewarded with a wonderful, intelligent, affectionate furry friend.